April 2021
Dear Friends,


In addition to the gift of our risen Savior on Easter, we have much to celebrate in the month of April!
First, let us congratulate our own Leonor (Nori) Limarzi Ponzio '97, who has been chosen as our new principal beginning in the 2021-2022 school year! Nori has held multiple roles since returning to Visitation in 2005. Her depth of knowledge and experience at Visitation will truly be assets in this position. If you missed this exciting announcement, you can read about it here.
I would like to thank all of our alums who attended our March 22 Community Conversation on socioeconomic status and access (sponsored by the Alumnae DEI Committee) with alumna Juana Pacheco '85. Classmate Olivia Wills Kane '85 led the discussion with Juana, who shared her journey and expertise on this important topic. If you were unable to attend, you can view the recording here.
And finally, we are excited for our first ever Virtual Reunion April 23-25 for all classes ending in 0's, 1's, 5's and 6's! We have a variety of different offerings including class Zoom parties, a presentation on our History of Enslaved People Project, an update on Visitation today from Head of School Dr. Barbara Edmondson, reunion awards and class toasts, and a Mass and discussion about Salesian Spirituality in our everyday lives. If it is your reunion year, please register to receive links to the events you plan to attend.
Easter Blessings to you and your families!

Director of Alumnae Relations
Salesian Theme of the Month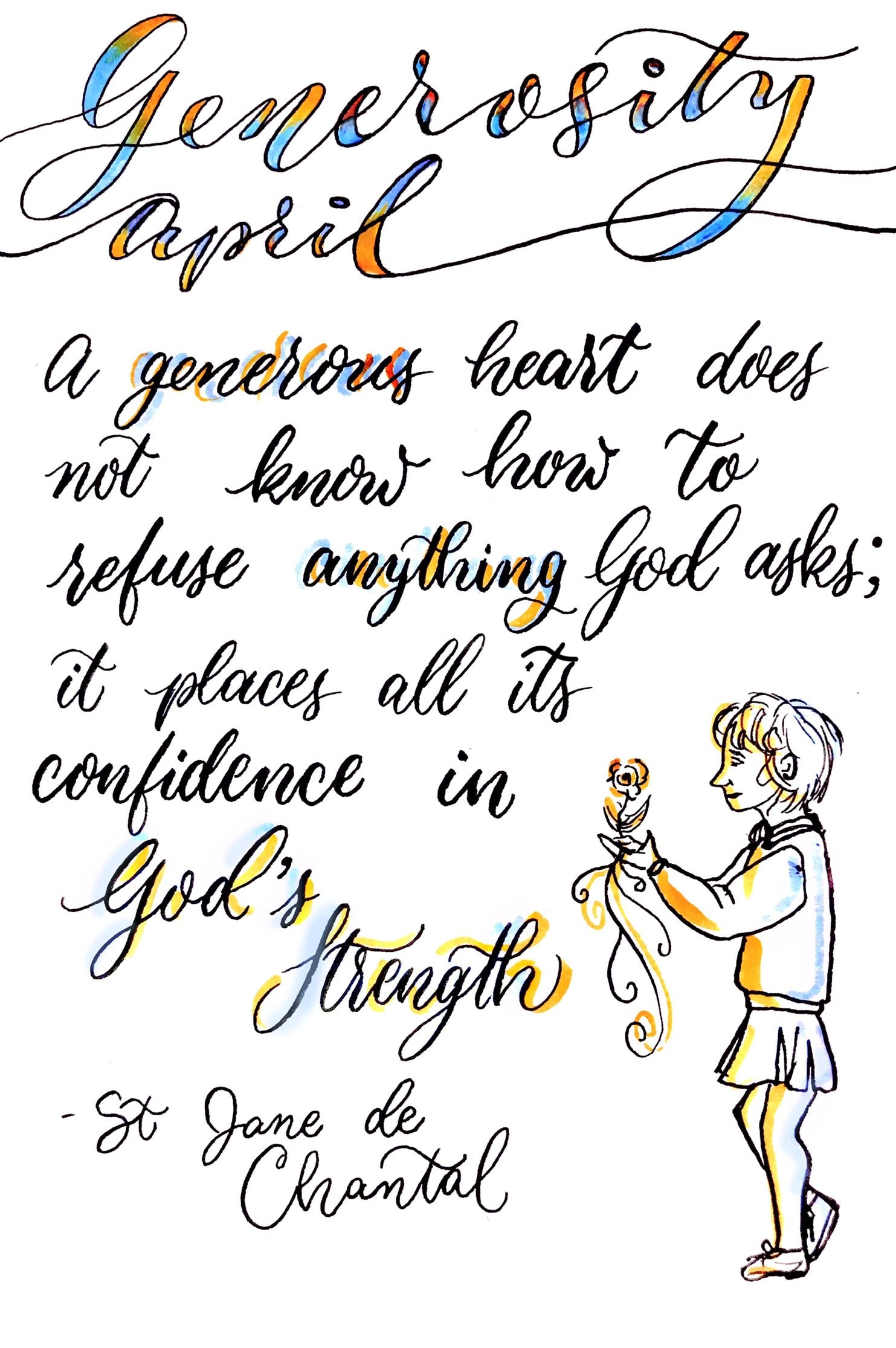 Each month, we celebrate a Salesian Little Virtue and the people in our community who embody that virtue. We have recently invited alums to celebrate those members of our community who live out Visitation's charism beyond the Green Gate. To nominate a friend, tag or mention them on our social media profiles, or submit an email with their name and a brief reflection to Suzie Koones Egan '79.
The author and nominee of each reflection will be entered into a lottery for a chance to receive a small gift from the St. Jane de Chantal Salesian Center! Awardees will be randomly selected and notified via email at the end of the month.
Artwork by Sara '21.
April - 2021
4/23/21
All day
Women Who Make a Difference Speaker - Rebecca Kamen:

Join students, faculty, staff, families and fellow alumnae on April 8 at 7 p.m. to hear from artist Rebecca Kamen on how crisis, curiosity and the creative process generate unexpected opportunities for discovery and inform artwork connections between art and science. Learn more and RSVP here.
Crescent Conversations: Our April Crescent Conversation - a Salesian Spirituality opportunity for alums - will be guided by Dr. Olga Rasmussen, former religion department head and Salesian scholar. Connect, reflect, and pray together on April 25 at 8 p.m. Learn more about Crescent Conversations here.


Sister Act, Spring Musical:

S

tream performances of Sister Act, the spring musical, April 23-25. Get your streaming pass here.


Reunion 2021 - for classes ending in 0's, 1's, 5's, and 6's: Register today for our biggest reunion ever - and a virtual one, at that! Class parties, Salesian discussions, and more are planned for April 23-25.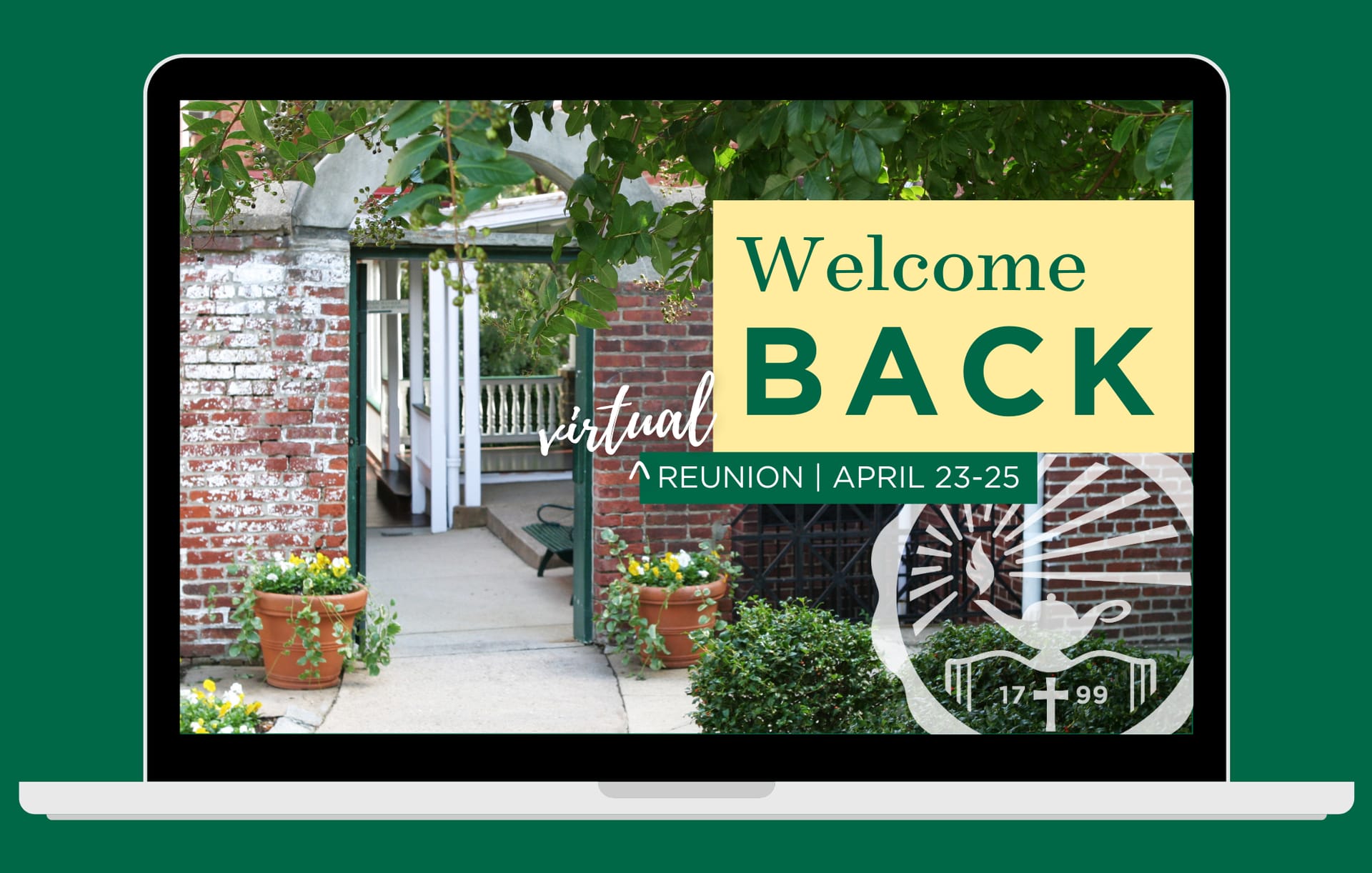 Ashley Smith Young '05 was featured byABC7 News as a woman making a difference in her community for altering her business model for Bridal Babes during the pandemic.
Headlines & Happenings at Visi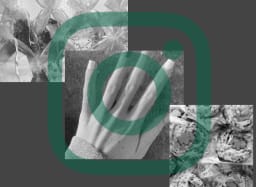 By Eliza Shearer '24, Wicket Staff Writer At Visitation, girls are not only striving to achieve success in school, but outside of school in multiple ways. Specifically, some girls have taken up the job of starting small businesses on Instagram. These entrepreneurs exemplify the dedication and perseverance that comes along with balancing a business with all of their other commitments and responsibilities.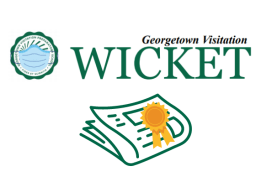 The Wicket student newspaper received Gold Medalist status from the Columbia Scholastic Press Association and First Class distinction from the National Scholastic Press Association this winter, in recognition of their work last academic year.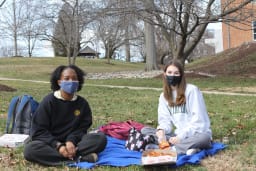 Visitation is - as the seniors put it - BA21K! The school kicked off the third trimester by also beginning its two-cohort model, split into juniors/seniors and freshmen/sophomores.
Georgetown Visitation has received notification of the following deaths in our community. We pray for them, their families, and loved ones.

Deaths
Mary Jo Hobbs Williard JC '48

Pat Shevlin Scanlon JC '49

Mary Ellen Kehoe Hughes '75
Condolences
Katie Kehoe Ross '72 and Johanna Kehoe '74 on the death of their sister Mary Ellen Kehoe Hughes '75

Mary Fran Scanlon Jackson '75 on the death of her mother, Pat Shevlin Scanlon JC '49; Mary Jo Shevlin '56 on the death of her sister; and Maurya Scanlon '06 and Julia Scanlon '11 on the death of their grandmother

Caitlin Mudd '09, Maddy Mudd '12, and Ella Cole '20 on the death of their grandfather Roger Mudd, and Kerry McDonnell Mudd '82 on the death of her father-in-law

Caroline Mukerjee '20 on the death of her grandmother Lucy Fowlkes
QUESTIONS?

The Alumnae Office is happy to help! For any info on our programs, events or alumnae chapters, email
Suzie Egan or call 202-787-5679.