February 2021
Dear Friends,


This Salesian theme of Perseverance - our Little Virtue of the month - seems so appropriate at this time. Everyone has had to continue to take steps forward even in these most trying times. Our school leaders, our students, and you - our alumnae and families - have pushed ahead to make the most of the opportunities this pandemic has brought. I am in awe of the strength and tenacity that I have seen over the last year from so many in our community.
One of our greatest examples of perseverance is our dear Sister Mary Berchmans Hannan, VHM, '48 & '50, who has led our school and our Monastery through times of challenge as well as triumph. Sister will be celebrating a very special birthday on March 12, and to celebrate we would like to share our fondest memories of her with her. If you would like to contribute to our commemoration with a remembrance of your own, click here to upload photos and memories by Wednesday, February 17.
Just another example of perseverance is the dedication and time that has gone into shifting our annual school scholarship gala to a virtual event - which means that you can join our current parents, faculty, staff, and the Sisters to celebrate! Please join us for our (Virtual) Roaring Green Gate Gala on March 13. One hundred percent of the profits from this event support our scholarship fund and the Financial Aid Supplement Fund. Help us make a Visitation education a reality for remarkable, deserving students.
Wishing you continued health,

Director of Alumnae Relations
Salesian Theme of the Month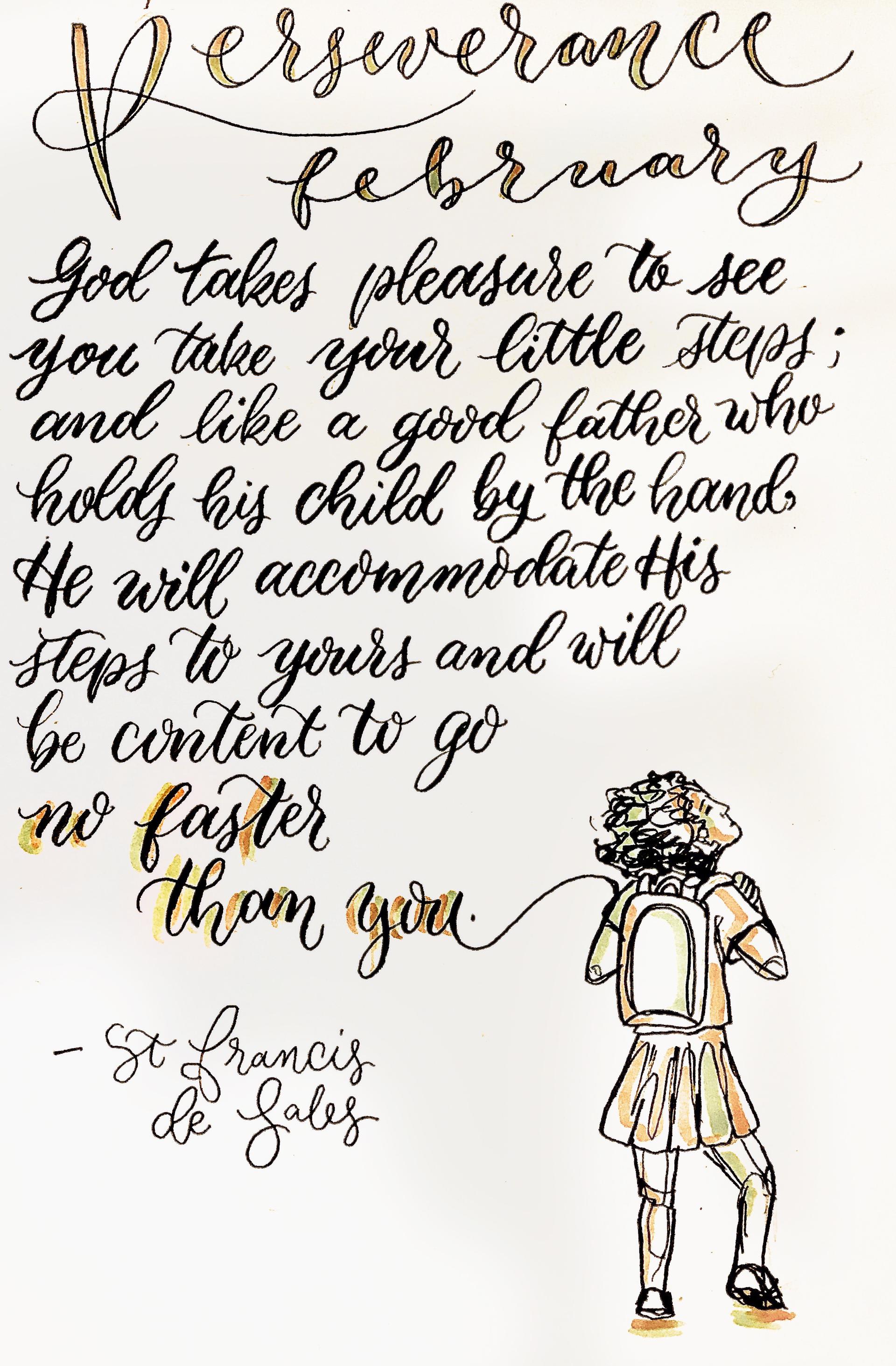 Each month, we celebrate a Salesian Little Virtue and the people in our community who embody that virtue. We have recently invited alums to celebrate those members of our community who live out Visitation's charism beyond the Green Gate. To nominate a friend, tag or mention them on our social media profiles, or submit an email with their name and a brief reflection to Suzie Koones Egan '79.
The author and nominee of each reflection will be entered into a lottery for a chance to receive a small gift from the St. Jane de Chantal Salesian Center! Awardees will be randomly selected and notified via email at the end of the month.
Artwork by Sara '21.
February - 2021
2/18/21
6:30 PM
March - 2021
2/28/21
8:00 PM
Crescent Conversations: Our second Crescent Conversation - a Salesian Spirituality opportunity for alums - will be guided by Dr. Olga Rasmussen, former religion department head and Salesian scholar. Connect, reflect, and pray together on February 21 at 8 p.m. Learn more about Crescent Conversations here.



Roaring Green Gate

Gala: Travel back to the Roaring Twenties with us for this year's virtual Green Gate Gala on March 13! Join fellow alumnae, parents, faculty, staff, and the Sisters online to support the increasing need for financial aid at Visitation. One hundred percent of proceeds go directly to the school's scholarship fund. Click here to purchase your ticket.

The gala committee is looking for Gold-White sweatshirts and pictures from past years that fit the Roaring Twenties theme. Please send them to Meghan Smith '10 in the Advancement Office.

Looking for more ways to support the gala? Become a sponsor or donate an item from Visi's Amazon Wish List.



Sister Act, Spring Musical: Save the date to stream performances of Sister Act, the spring musical, April 23-25.


Reunion 2021 - for classes ending in 0's, 1's, 5's, and 6's: Mark your calendars for our biggest reunion ever - and a virtual one, at that! Class parties, Salesian discussions, and more are planned for April 23-25.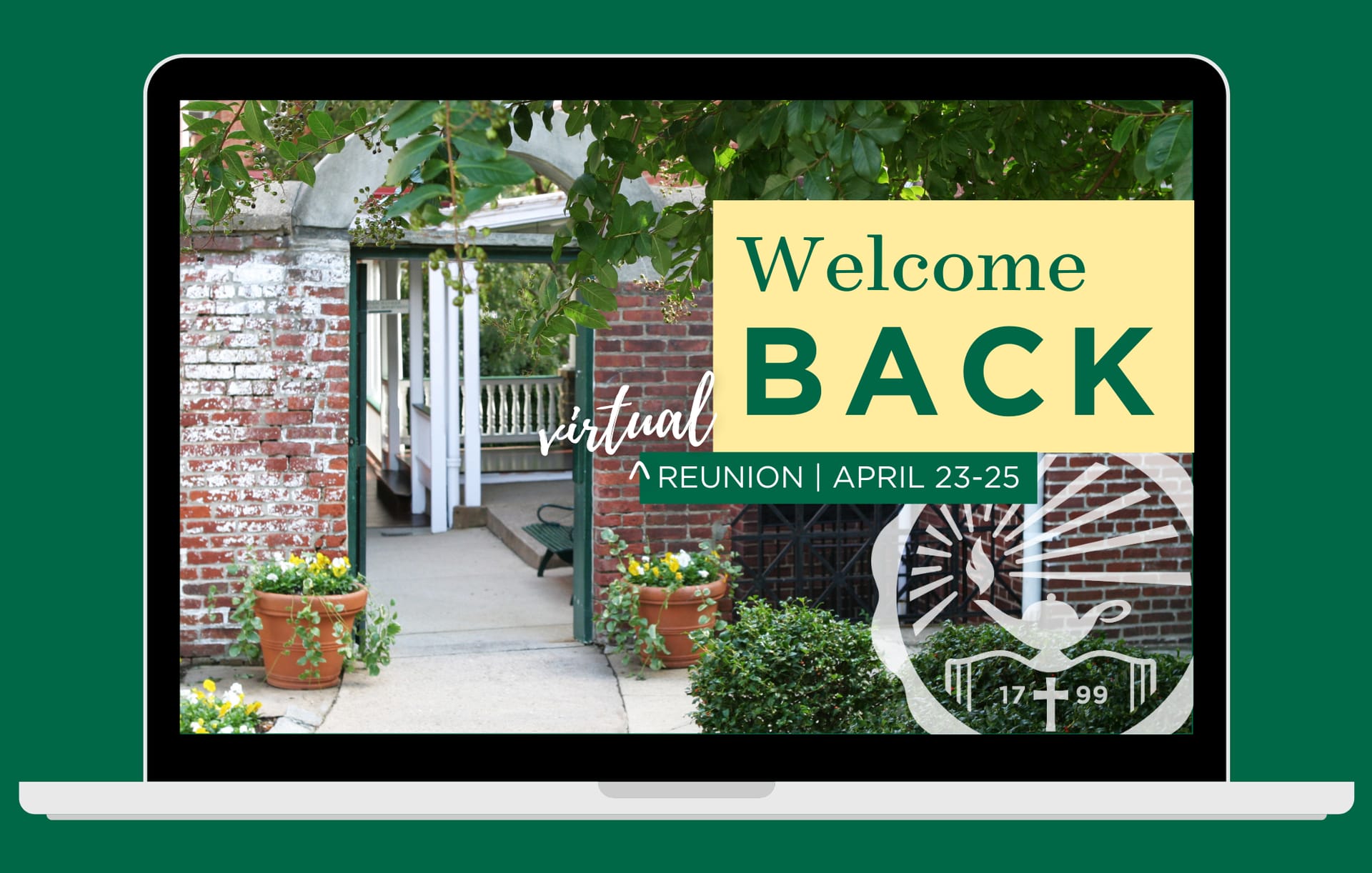 Andrea Lopez '12 will perform at ViacomCBS 2021 Showcase next week as part of a diverse cast, whose talents range from musical theater to comedy.
Headlines & Happenings at Visi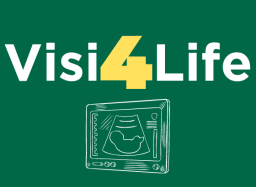 Visi4Life went virtual this year. Pro-life speaker Brandi Swindell of Stanton International spoke to students via Microsoft Teams Live and students attended the now-virtual Mass and rally with the Archdiocese of Washington on Friday. 
Georgetown Visitation has received notification of the following deaths in our community. We pray for them, their families, and loved ones.

Deaths
Elaine Carpenter Quasebarth JC '50

Kathleen Ford Victorson '59

Mary Hoogland Noon '61

Judy Terlizzi '62
Condolences
Jane Hoogland Anderson '63 on the death of her sister Mary Hoogland Noon '61

Barbara Ford Dove '65 on the death of her sister Kathleen Ford Victorson '59

Kathy Schmidt Arndt '85 on the death of her husband, Don Arndt III; Antoinette Arndt '14, Katherine Arndt '16 and Natalie Arndt '18 on the death of their father; and Lisa Schmidt Williams '85 on the death of her brother-in-law

Jenny Barchas Bevirt '96, Katie Barchas Wilson '98, Chrissy Tanner Perdue '07, and Cortney Tanner '08 on the death of their mother, Nancy Brindley Givans

Faith Cerny '08 on the death of her mother, Greta Kreuz

Rachel Jones '08 on the death of her father, John Jones
QUESTIONS?

The Alumnae Office is happy to help! For any info on our programs, events or alumnae chapters, email
Suzie Egan or call 202-787-5679.