Salesian Theme of the Month
January: Gentleness
"God will be your guide in all things if you keep yourself humble and lowly in His presence, supporting your neighbor with the utmost gentleness."
- St. Jane de Chantal
Join us for Salesian Community Mass on January 20 at 10 a.m. in the Chapel of the Sacred Heart.
Take a moment of quiet reflection and sign up for Adoration before the Blessed Sacrament on First Fridays in Visitation's Chapel.
January 21: Alumnae Service Project
Bring your family and friends to our alumnae service project on Martin Luther King, Jr. Day from 10:30-12:30 p.m. in the Fisher Center. Together, we'll put together bags of healthy food items for residents of a homeless shelter. RSVP via your Paperless Post. 
February 24 & 25: Florida Alumnae Events
If you will be in Florida this winter, we hope you will join us for one of our alumnae get-togethers. We'll be in:
Jupiter on February 24; and
Naples on February 25.
You can RSVP here. If we have your address in Florida, formal invitations will be coming your way. If you've recently moved or are traveling to Florida, please reach out to Suzie Egan for details and questions.
March 9: Green Gate Gala 
Join us at the Green Gate Gala to help ensure that the dream of a Visitation education becomes a reality for remarkable, deserving students. This Visitation community event celebrates and supports our scholarship fund.
This year's theme is Illuminating 35th Street. Proceeds from the Gala go directly into Visitation's financial aid budget. This academic year, 33% of Visitation's students received over $2.2 million in financial aid assistance.
 Look for opportunities to contribute auction items soon!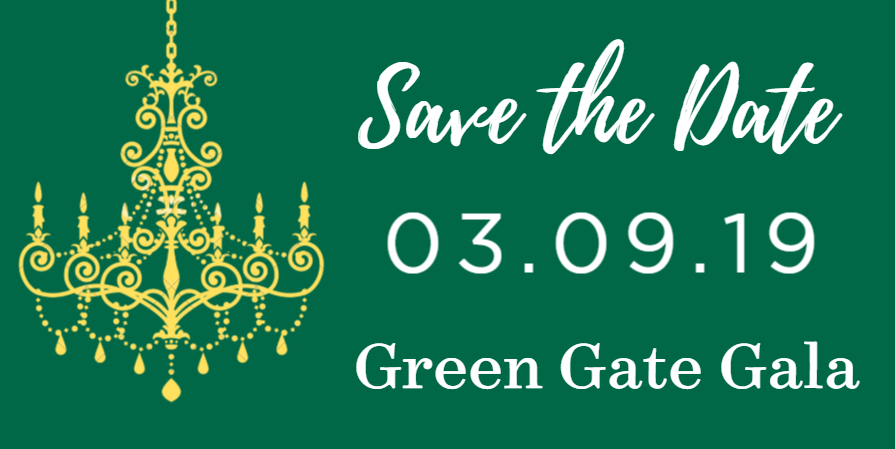 Alumna Profile: Colette Young '07
With two Masters degrees under her belt and a doctorate in the works, Colette Young '07 is a lifelong learner - a skill she imparts daily to her students as a teacher and coach at both Columbia Secondary School and Columbia University. Beyond the classroom, Colette is an accomplished musician and vocalist, which recently brought her back to DC for a performance at the White House.
She also performed on Christmas Day at Visitation, an annual tradition for her family. The Sisters hold a special place in her heart; her family started the tradition of caroling with the Sisters, and she was instrumental in developing the Giving Tree program for the Sisters each year. Read more about Colette here.
Hot Off the Presses: Visitation Alumnae Magazine 
Maggie Rose '06 Meets & Greets Visi Students 
Maggie Rose '06 reserved space for Visitation students and their families at her Dec. 22nd concert at the Bethesda Blues & Jazz Supper Club, holding a Q&A in advance of her concert. She invited students, alongside the Brodnik family, to celebrate the life of Kelly '21, who passed away this fall after a battle with pediatric osteosarcoma. Maggie was highlighted in the Washington Post in advance of the concert and will be in town again in March.
If you have recently been featured in the news, share your link with us, and we may feature you in the next issue of Visi Views!
#Throwback: Finding a Visi Connection in Unexpected Places
April 2017
Chanelle Johnson Sjolander '07 shared the following story with the Alumnae Office:
While boarding a Southwest flight to DCA from FLL, my boyfriend (editor's note: now her husband -  wedding photo in Fall 2018 Magazine) and I searched for seats next to each other. Unfortunately, we weren't able to locate any. He sat next to a father and son while I sat between a sleepy gentleman and lovely lady. This lady and I chatted for the entire two and a half-hour flight. Midway through our conversation, we found similarities. Not only did we grow up in the same city, we also both graduated from Visitation! (What are the odds!?) It was a pleasure speaking with Ms. Nancy M. Nicklas '65.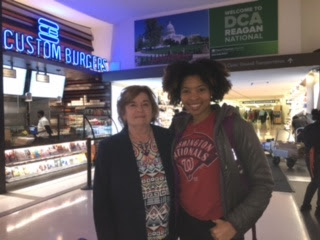 Georgetown Visitation has received notification of the following deaths in our community. We pray for them, their families, and loved ones.
Deaths
Frances McGinnis Hayes JC '50

Anne Ferrenbach Ryan JC '50

Joan Gaine Hutchinson '51

Polly McConnell '02
Condolences
Maureen Gaine McGowan '58 on the death of her sister, Joan Gaine Hutchinson '51, and Mary Keegan Magner '73, Kate Keegan Lindsay '77, Nancy Keegan Coakley '78, and Colleen Keegan Williams '81 and Ann McGowan Redgate '89 on the death of their aunt

Mary McConnell Carter '04 on the death of her sister, Polly McConnell '02 and Kathy Ryan Kiernan '70, Mary Ryan Cunningham '72, Tricia Ryan O'Connor '74, Nancy Ryan O'Connor '76 on the death of their niece and Kathleen Kiernan '03 and Claire Kiernan '08 on the death of their cousin

Sara Dorsey Reilly '72, Ryan Dorsey Revel '74, and Ann Dorsey Horner '76 on the death of their aunt, Anne Ferrenbach Ryan JC'50

Arantza Alcorta Murphy '83 on the death of her mother, Mirin Alcorta, and Alasne "Lala" Murphy '21 on the death of her grandmother

Anne-Marie Cullinane Aiello '90 on the death of her father, John J. Cullinane Jr.

Caitlin Rothwell '09 on the death of her grandfather, Jack Wenning