Salesian Theme of the Month
December: Simplicity
"It is requisite to be very simple in all things, and to walk in good faith … go on simply, and look only at God's good pleasure in everything and without ceasing." 
- St. Jane de Chantal
December 24, 2018
4:00 PM
Nolan Center
Join us for Salesian Community Mass on December 9 at 9 a.m. in the Nolan Center. 
Take a moment of quiet reflection and sign up for Adoration before the Blessed Sacrament on First Fridays in Visitation's Chapel.
The Madrigals perform at the Willard Hotel on Dec. 16 at 5:30 p.m.
Come support our Orchestra, Chorus, and Madrigals at our Christmas Concert on Dec. 20 at 7 p.m. in Nolan Center.
January 3: Gonzaga Business Network Career Fair
Looking for a job or an internship? Do you work for a company that is hiring? The GBN invites Visitation alumnae and past parents to a Career Fair, Jan. 3, from 6 - 8 p.m. in the Carmody Center at Gonzaga.
February 24 & 25: Florida Alumnae Events
If you will be in Florida this winter, we hope you will join us for one of our alumnae get togethers. Check out the save the date below!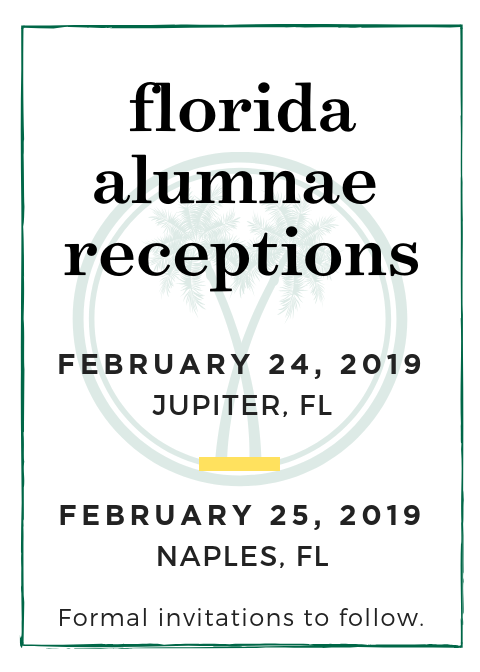 Alumna Profile: Sophia Labas '14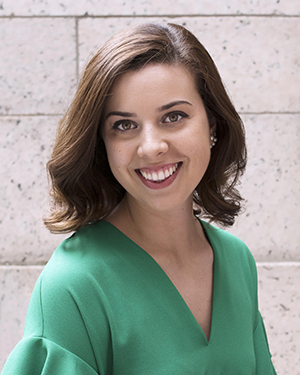 With a background in the arts, Sophia Labas '14 turned her passion for music into a fundraising career, now working in the Development Office for the Washington National Opera at the Kennedy Center. She graduated from Boston University with a degree in English in 2017.
Sophia recently visited campus to talk with freshman Aesthetics classes about her career and to hear Kenneth Kellogg, an opera singer and friend to Fine Arts Department Chair Kelli Smith, share his story. 
Read more about Sophia here.

For those who came back to campus, and those who gathered at Town Hall, thank you for joining us to celebrate the Thanksgiving holiday. We're grateful for this incredible alumnae community and for friends that last a lifetime. See more photos from the events here.
History of Enslaved People Project
The Catholic Standard recently covered our report and ongoing work around the History of Enslaved People, released last spring. The steering committee for the project held a panel reflection and discussion for the Visitation community last month. In the new year, we look forward to launching our Alumnae Diversity & Inclusion Committee. If you are interested in joining, please email Suzie Egan.
Carolyn Callahan Keller '79 is one of L'Oreal's 10 Women of Worth nominees for her work with EBeauty, a wig exchange program she founded for women battling all forms of cancer. If selected as the National Honoree, she could earn a $25,000 donation to EBeauty. She shared her story with Elle Magazine.


Alexandra Hutchinson '13  recently appeared in photographs in the New York Times article "Brown Point Shoes Arrive, 200 Years After White Ones" and in AM New York, dancing for the Dance Theatre of Harlem.
If you have recently been featured in the news, share your link with us, and we may feature you in the next issue of Visi Views!
Georgetown Visitation has received notification of the following deaths in our community. We pray for them, their families, and loved ones.
Deaths
Margaret "Peggy" Darby Hurley '43

Suzanne Sturgis Walsh JC '51

Mary Jo Whalen '51 & '53

 Diane Davis '74

 
Condolences
Marianne Darby Stohlman '50 on the death of her sister Peggy Darby Hurley '43, and Jan Stohlman '71, Barbara Stohlman Rice '74, Joyce Stohlman Brewer '77 and Cathy Stohlman Rusnak '80 on the death of their aunt, and Darby Weigand '11 and Lizzy Rusnak '21 on the death of their great-aunt.

Mary Jane Morley Conway Stone '57 on the death of her daughter, Suzanne Conway Sullivan, and Mary Beth Conway Greene '84, Stephanie Conway McGill '86, Nancy Conway Quinn '92 on the death of their sister, and Mary Jane Greene '11, Stephanie Jones '12, Kathleen Greene '14, Grace McGill '16, and Virginia Quinn '21 on the death of their aunt.

Clare Hogan Cumberland JC '60 on the passing of her husband, William Cumberland.

Maria Elena Castella ' 69 and Idalia C. Duncan '73 on the death of their father, Luis Alberto Castella.

Dorothy Davis Stolar '69 and Meg Davis '78 on the death of their sister,


Diane Davis '74.




Victoria Wills McMahon '79 and Olivia Wills Kane '85 on the death of their mother, Gloria Wills and Marie Therese Kane '14, Cecilia Kane '16, Virginia Kane '18, and Florence Kane '20 on the death of their grandmother.

Cecelia Castiello '16 and Katie Castiello '19 on the death of their grandfather, Francis Rienzo.

Gigi Koch '14 on the death of her grandfather, George H. W. Bush.