Salesian Theme of the Month
November: Generosity
"As regards love of neighbor, may we give according to the measure with which our Divine Master has given to us. Then we truly will love each person as ourselves." 
- St. Jane de Chantal
Head of School Search Update
The search for Visitation's next Head of School is proceeding well and we expect to make an announcement in early 2019.
Over the summer, the Search Committee worked alongside our consultants at LeaderFit to launch a comprehensive, national search. We have been blessed with a robust and diverse pipeline of talented leaders to consider. Right now, the Search Committee is conducting interviews and evaluations of candidates.
We ask you for your prayers as we proceed with this "quiet phase" of our search. We will continue to update the community on any important new developments. For a more detailed update on the search process or to review the position description, please visit our search web page. If you have any questions, please do not hesitate to contact Beth Eck Olchowski '89, Chair of our Search Committee.
Join us for Salesian Community Mass on November 18 in the Chapel. 
Take a moment of quiet reflection and sign up for Adoration before the Blessed Sacrament on First Fridays in Visitation's Chapel.
Want to come see our fall play, "The Ghost of Rhodes Manor"? Purchase tickets here. Read more about this girls-only production and our new Director of Performing Arts here.

Get an early start on your Christmas shopping with 80+ vendors, including the Sisters (who would love to see you there!) and more than ten student entrepreneurs.
Buy a raffle ticket for the Honda CR-V EX-L to support the Visitation Annual Fund! This year's car was generously donated by Sheehy Auto Stores, so every ticket sold ($100 each) goes toward our students, teachers, and Sisters. 
Please join us Friday from 6-9 p.m. upstairs in Fisher Center (gym) for Visi Bistro Happy Hour! Catch up with friends over a glass of wine while perusing our wonderful baskets and silent auction items.
November 6: Mass for the Deceased
During the month of November, our Church traditionally remembers those whom God has called through death to eternal life. On November 6 at 4 p.m. in the Chapel, we honor those members of our Visitation family who have passed in the last year and remember the intentions of our community. We invite you to join us in prayer that afternoon.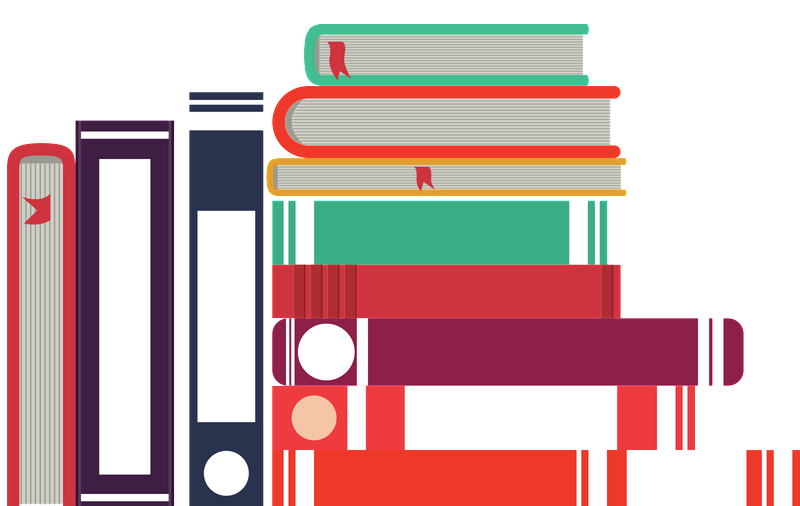 November 8: Visitation Alumnae Book Club
Join English Department Chair Laurie Collins Quirk  '74 and former English teacher and college counselor Patty Branson for a discussion of "Circe" by Madeline Miller.  
In order to receive the reading guide, please RSVP below.  You can purchase the book on Amazon here. 
 
Don't live in D.C. area? No problem! We will livestream the discussion on Facebook, and you'll be able to participate by asking questions in the comments. 
November 15: The History of Enslaved People at Georgetown Visitation: An Evening of Discussion
Please join us both in person and via livestream on November 15 at 7 p.m. for an evening of conversation about our History of Enslaved People Project. We invite everyone to read the report, which was released last spring, and join the Steering Committee for a discussion of the questions and issues it raises.
To participate, please RSVP to Suzie Egan so we can ensure we have enough space. We will provide additional information about accessing the livestream that evening only to those who RSVP.
November 21: Thanksgiving Eve Parties
Please RSVP via Paperless Post to gather together with classmates and friends on November 21 at either our college-aged party at Lalor House on campus (5:30 p.m.) or to the happy hour at Town Hall (8 p.m.)! We hope you can join us that evening. 
Alumna Profile: Laurie Collins Quirk '74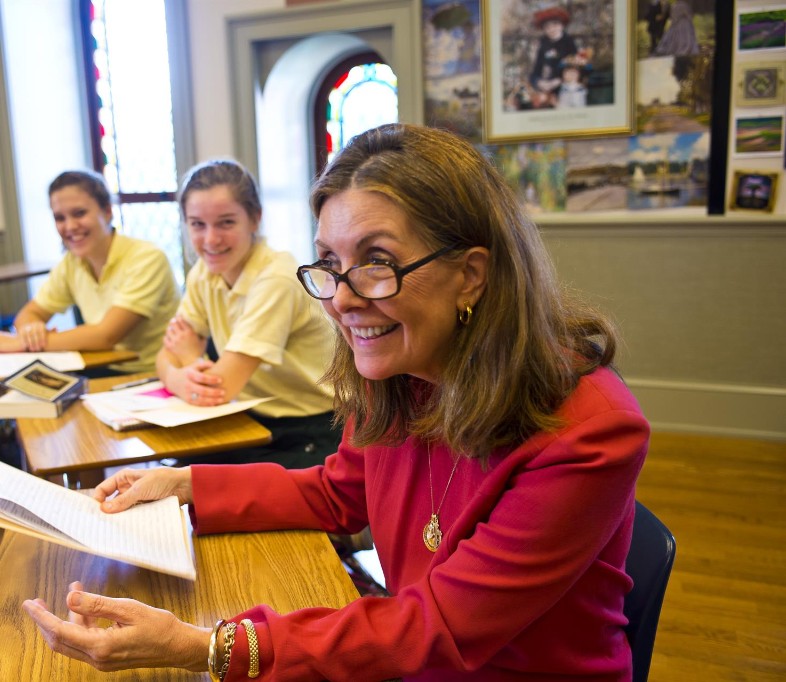 Laurie Collins Quirk '74 is an alumna, a Visitation parent, and a member of our English Department faculty. She was honored with the St. Jane de Chantal Service Award in 2015. Laurie serves on our Alumnae Association Board and the Salesian Center Advisory Board and supports the work of the Campus Ministry in daily prayer offerings and retreats.
Next week, Laurie will co-lead our first Alumnae Book Club meeting with former faculty member Patty Branson.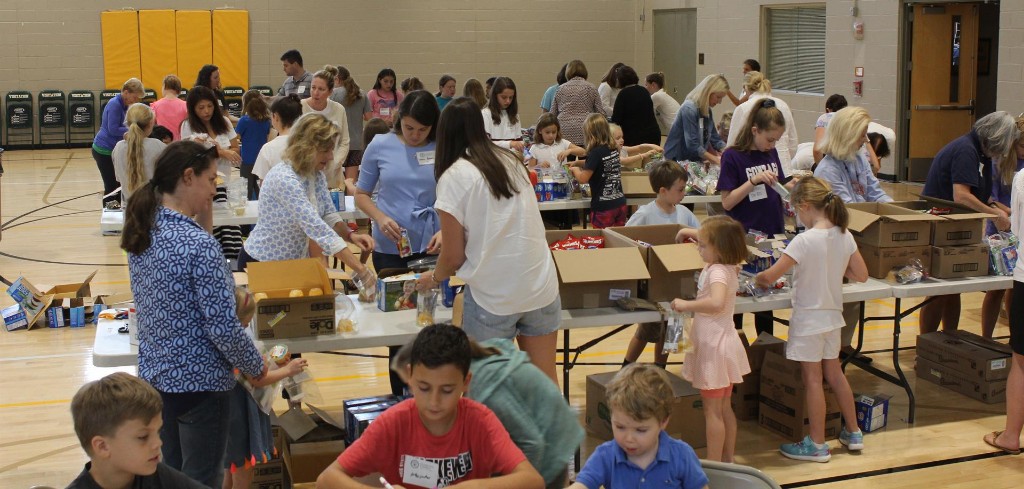 Alumnae and their families came to campus on Columbus Day to participate in a day of service, preparing packages for a local homeless shelter.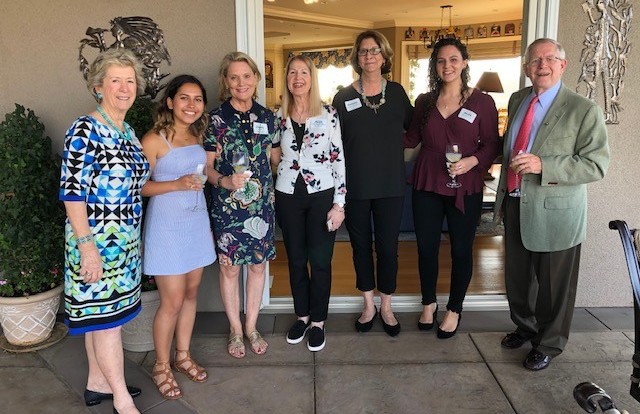 Our Alumnae Office headed to the West Coast for our inaugural event in L.A. on Oct. 21.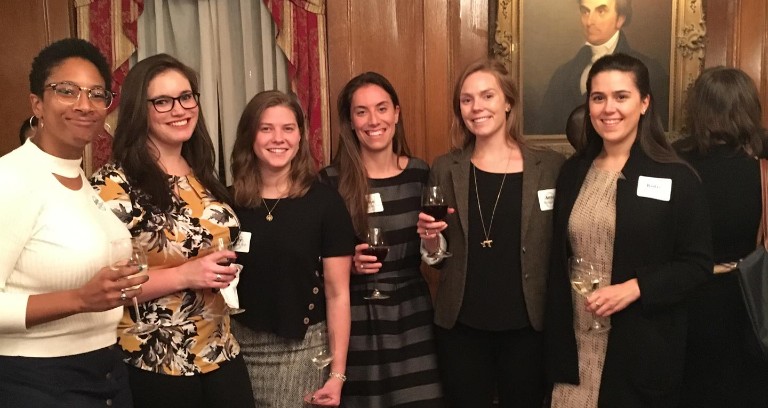 More than 60 alumnae joined us in New York City for our annual get-together at the University Club.
Thanks to all those who attended our October events - from service with family and friends on Columbus Day to our trip to New York City and our inaugural event in Los Angeles. A big shout-out to Jaynie Miller Studenmund '72 for hosting our get-together in California! From the East Coast to the West Coast, we're grateful for the opportunity to connect with our alumnae. See more photos from our regional events here. We hope to see all our local alums and families at Esprit de Noel this weekend! 
If you have recently been featured in the news, share your link with us, and we may feature you in the next issue of Visi Views!
Georgetown Visitation has received notification of the following deaths in our community. We pray for them, their families, and loved ones.
Deaths
Sr. Eleanor May Klaber, VHM

Sr. Jane de Chantal Smisek, VHM
Condolences
Georgia Jarboe Petsche '50 on the death of her husband, George Petsche

Jill Gollob '18, on the death of her grandfather, Honorable Joseph Tydings