Salesian Theme of the Month
October: Humility
"Keep your heart in peace and let nothing trouble you, not even your faults. You must humble yourself and amend them peacefully, without being discouraged or cast down,
for God's dwelling is in peace."
- St. Margaret Mary Alacoque
Join us for Salesian Community Mass on October 21 at 10 a.m. in the Nolan Center.
Take a moment of quiet reflection and sign up for Adoration before the Blessed Sacrament on First Fridays in Visitation's Chapel.
Support our fall play, "The Ghost of Rhodes Manor," by purchasing ads in the program! Read more about this girls-only production and our new Director of Performing Arts here.
October 10: #Give2Visi Day!
We're thrilled to launch our first-ever 24-hour Giving Day challenge on October 10, the day before Founders' Day and Marshmallow Roast.
October 13: Open House
Do you know an incredible middle school student who wants to become a woman of faith, vision, and purpose? Send them our way on Saturday, October 13 for Open House. Our campus is open from 1-4 p.m. Share this link with them for more details!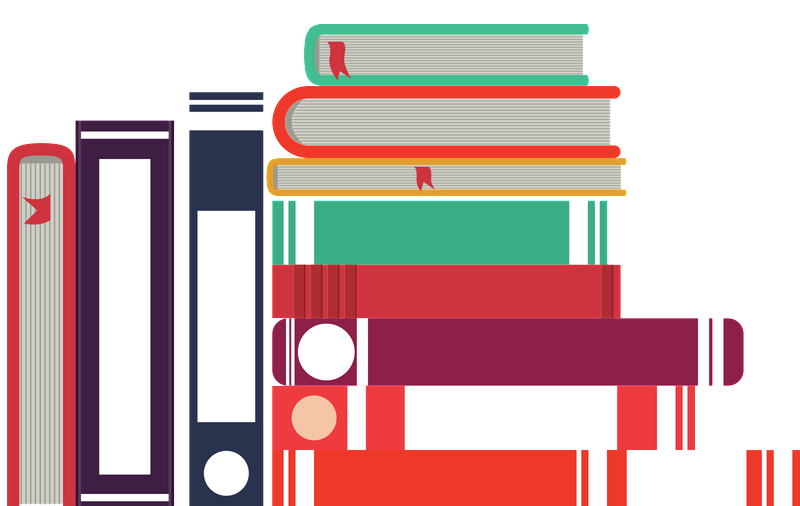 November 8: Visitation Alumnae Book Club
Join English Department Chair Laurie Collins Quirk  '74 and former English teacher and college counselor Patty Branson for a discussion of "Circe" by Madeline Miller.  You might recall reading "The Odyssey" as a student; this novel is told from the perspective of Circe, the sorceress in Homer's epic.
"We think its focus on a woman who circumvents or overcomes the challenges posed by the men in her life, is very timely," said Laurie. "We appreciate the creativity of choosing a character who plays a small part in the epic and expanding her story."
Once you RSVP below, you'll receive a reading guide. You can purchase the book on Amazon here. 
 
Don't live in D.C. area? No problem! We will livesteam the discussion on Facebook, and you'll be able to participate by asking questions in the comments. 
November 15: The History of Enslaved People at Georgetown Visitation: An Evening of Discussion
Please join us November 15 at 7 p.m. in Founder's Hall for an evening of conversation about our History of Enslaved People Project. We invite everyone to read the report, which was released last spring, and join the Steering Committee for round table discussion of the questions and issues it raises. Please RSVP to Suzie Egan.
Coming soon to a city near you: 
October 17 - New York City
October 21 - Los Angeles
If you live in one of those locations, be sure to respond to the Paperless Post invitation for your event, and if you've recently moved to NYC, L.A., or San Francisco, please let us know so we can send you the information.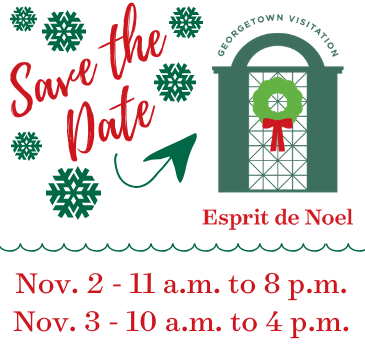 Alumna Profile: Robyn Bishop '76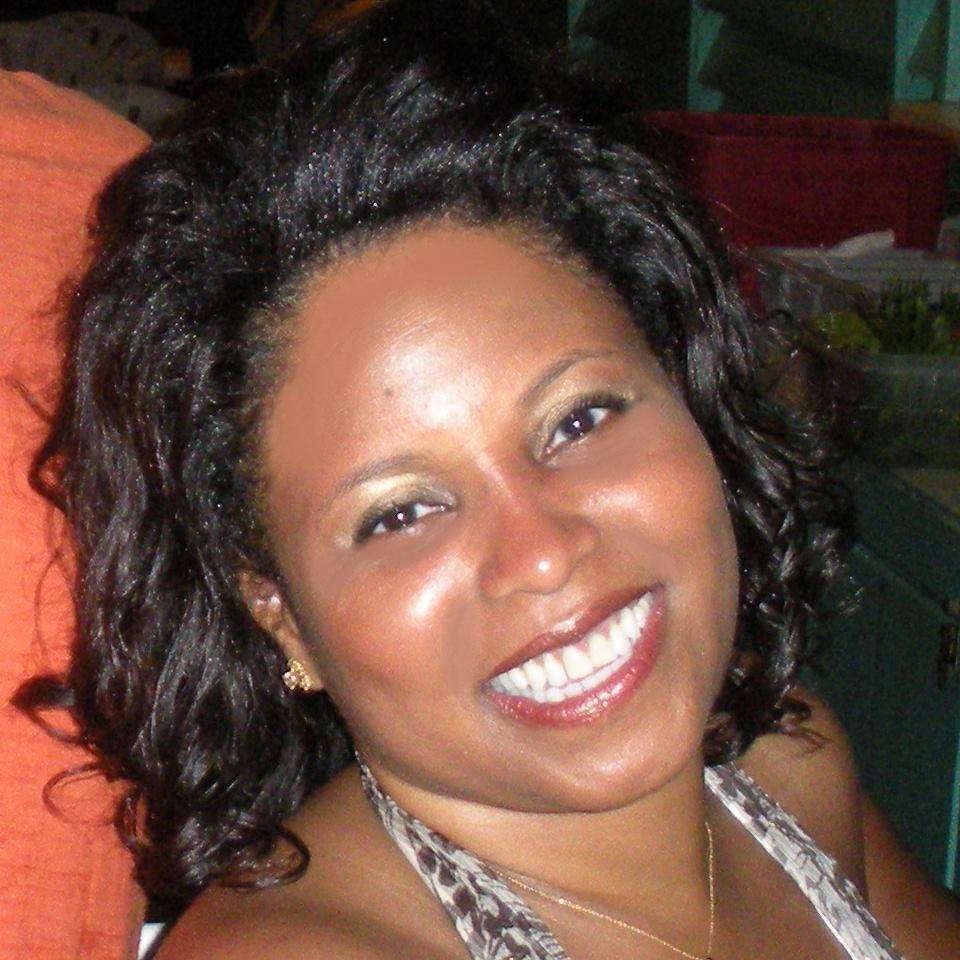 After working in health care for most of her career, Robyn Bishop '76 decided to make a change and go out on her own.
It was only four years ago that she started a web design company called Bubble Social Media Marketing; and in that short time, the company has already expanded to include integrated web services, like digital marketing and product sales.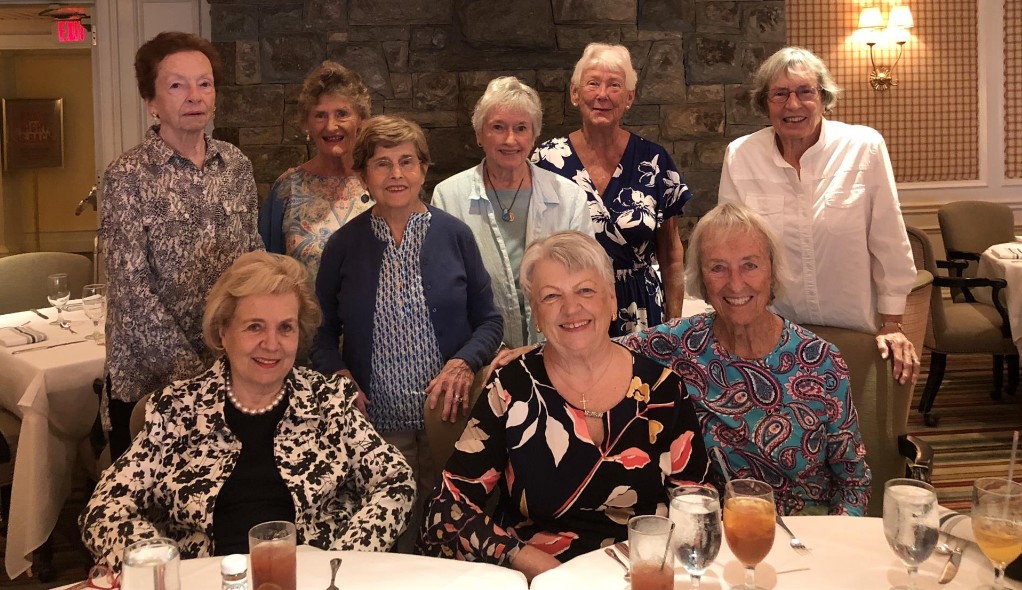 Members of the Class of 1954 got together for lunch and a little pre-planning for their 65th Reunion next spring! (L-R) Betty Wallace Redmond, Donna Wilson Slingluff, & Mary Catherine "Frankie" McCarthy Colby; Second Row: Mary Catherine Curran, Ginny Kilroy McKaig, Dot Furey Gates, Mollie Buckey, & Jane Locraft Head.
If you have recently been featured in the news, share your link with us, and we may feature you in the next issue of Visi Views!
We are grateful to alumnae far and wide who have supported our school community in the past few weeks as we grieve the loss of Kelly Brodnik '21, who passed away on September 16 after a battle with bone cancer. We are thankful for your prayers for Kelly and her family, and ask that you continue to keep them in your thoughts. We remain #foreverkellystrong. 
Georgetown Visitation has received notification of the following deaths in our community. We pray for them, their families, and loved ones.
Deaths
Condolences
Sister Mary Berchman's Hannan '48 & '50 and Susan Hannan '61 & '63 on the death of their sister-in-law, Kathleen Hannan

Mimi Schultz Reese JC '63 on the death of her brother, John Schultz

Carolyn Collins '65 and Ann Collins Findley '71 on the death of their mother, Helen Collins, and to Carin Cassidy Collins '79 on the death of her mother-in-law, and Lucy Collins (staff member) on the death of her grandmother

Molly Flynn Stevens '79 on the death of her father, Martin Flynn

Masha Casey '07 on the death of her brother, Seamus Casey