Salesian Theme of the Month
June: Sincerity
"A good vocation is simply a firm and constant will to serve God in the way and places the Almighty God has called you."

- St. Francis de Sales
July 12, 2018
6:30 PM
Lalor House
August 7, 2018
6:30 PM
Lalor House
Visi Alums: Lifelong Learning Series
July 12: Entrepreneurship

Hear from Visitation alumnae with an entrepreneurial spirit - women who have started their own businesses, turned side hustles into careers, and are following their passions. Paperless Post invites should be in your inbox; reach out to Suzie Egan with questions.
August 7: Work/Life Balance

Save the date to learn best practices from Visi alums for maintaining balance in your life. If you have advice or strategies to share and would like to join our panel, please contact Suzie Egan.
Summer Mentor Program
Visitation's Summer Mentor Program matches alums in specific fields with college-age and recently graduated alums who are interested in careers in those areas. We've got mentors in these fields ready to chat with interested alumnae. Contact Suzie Egan.
#TravelTuesday
 This week, we launched #traveltuesday on Instagram, featuring alumnae and students on their summer adventures. Headed across the country? Across the pond? Around the world? Share photos of your travels by DMing @visidc and you may see yourself featured! 
Alumna Reflection: Jaynie Miller Studenmund '72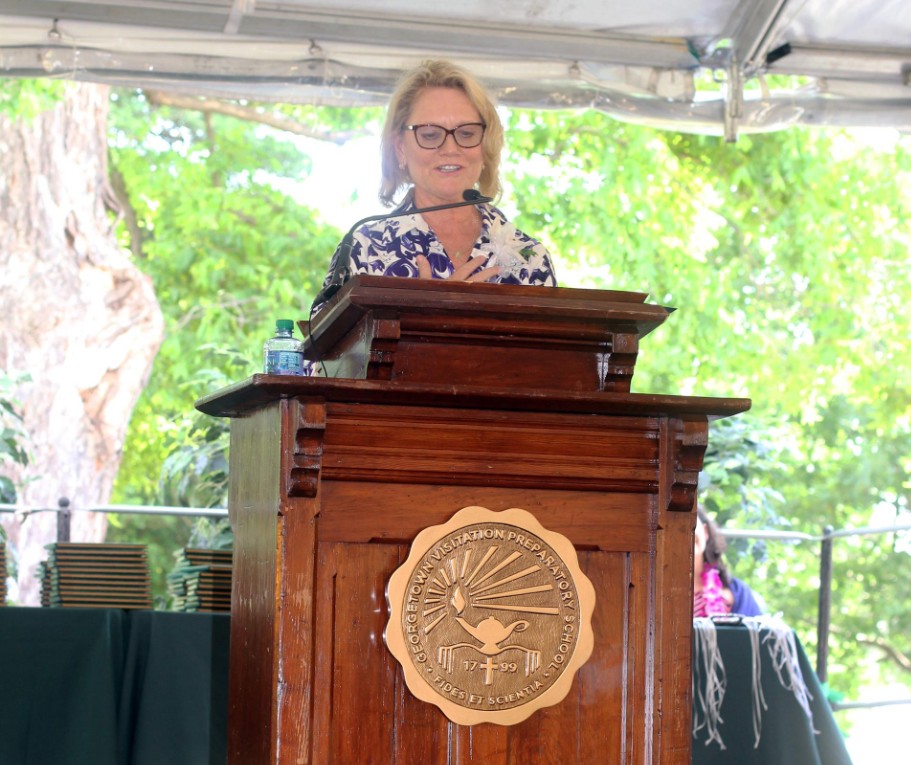 Jaynie Miller Studenmund '72 - corporate leader, Gold Star Mother, and co-founder of Enduring Heroes - spoke to the Class of 2018 at their commencement ceremony this month.
"Your graduating from Visitation and heading off to college will always be one of your life's major thresholds. This time is bittersweet because as parents and educators we want to give you wings to fly, but we also realize this is the end of an era," she said.
Networking Happy Hour
A quick shout out to our many alumnae who stopped in for our annual networking happy hour last week! They had the opportunity to meet and mingle with Visitation alumnae from a variety of class years. See more pictures here. We're excited for our Visi Alums: Lifelong Learning Series, which will next host a panel on entrepreneurship on July 12.
Cara Baldini '09

, a nurse at Suburban Hospital, received a DAISY award for exemplary commitment to her work and patients. 
Julie O'Malley Moeller '93, who was the recipient of the St. Jane de Chantal Service Award during Reunion 2018, was just recognized by Honored, a nonprofit that "honors" life-changing educators. Read her Honored story here, and her recent Loving Life, Living Jesus reflection here.


The first book by

Lizzy Mason '99

, The Art of Losing, was featured in Bustle and Lizzie was interviewed by Publisher's Weekly! The YA novel hits the shelves in January.
If you have recently been featured in the news, share your link with us, and we may feature you in the next issue of Visi Views!
Georgetown Visitation has received notification of the following deaths in our community. We pray for them, their families, and loved ones.
Deaths
Carlotta Johnston Fendig '40

Jane Simpson Leahy JC '42




Susan Gallagher Skinner '61, JC '63



Condolences
Susan Schnider Duke '72 and Mary Anne Schnider-Brittin '75 on the death of their father, Martin Schnider, and Jean Prominiski '99 and Katelyn Prominiski Baud '02 on the death of their grandfather 

Carlotta Fendig Willkie '72 and Karen Fendig Hoffman '75 on the death of their mother, Carlotta Johnston Fendig '40

Michele Amyot Whaley '82 and Nicole Amyot Mastromarino '83 on the death of their mother, Claudette Amyot

Katie Giblin '03, Colleen Giblin '08, and Genevieve Giblin '12 on the death of their grandfather, Dr. Thomas J. Giblin

Antoinette Angotti, faculty member, on the death of her father, Thomas Angotti, and Elena Garcia '08, Angela Garcia '09, Christina Garcia '11, and Lillian Kevorkian '21 on the death of their grandfather
STAY IN TOUCH!
We'd love to hear from you! Please send us your news and updates, photos, and new contact info via our web form. If you have not already done so, please share updates for Class Notes for the fall Alumnae Magazine.
QUESTIONS?
The Alumnae Office is happy to help! For any info on our programs, events or alumnae chapters, email Alumnae Relations Director Suzie Koones Egan '79 or call 202-787-5679.